In Ford gives up on turning its cars into smartphones Zachary Seward shares a story on how adding seemingly cutting-edge features to everyday products can do more damage than good:
But it seems people have no patience for touchscreens when a simple knob will do. Raj Nair, head of global product development, tells the Wall Street Journal (paywall) that knobs and buttons will return to the dashboards of new Fords for functions like tuning the radio and changing the volume. The company said it would follow the model of its F-150 pickup truck, which currently sports a mix of touchscreen and more traditional controls on its dashboard panel.
This reminds me of a point Aylin Koca makes in her 2009 PhD study called Soft Reliability in New Product Development (PDF link):
Misalignments between product capabilities and user preferences damage the overall success of a product in the market. Especially in the past few years, these misalignments increasingly lead to users rejecting or returning products after purchase. However, technical analyses of such products show that these products fully meet their technical specifications. This is particularly the case with highly innovative products that bear considerable market uncertainty during their development.
Have a look at this graph from Managing product reliability in business processes under pressure that shows the percentage of "No Fault Found" products that are being returned after purchase: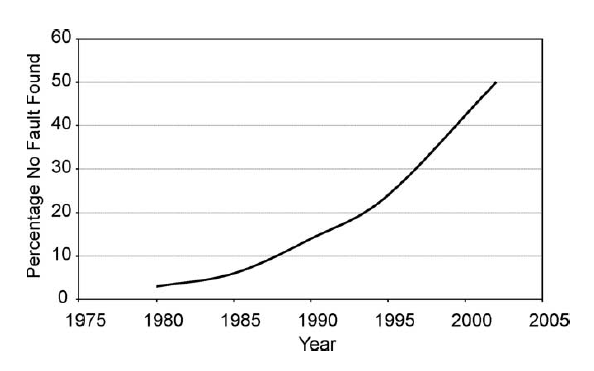 More products than ever are being returned to shops because people think they are broken when they're not — they're just really difficult to use. And I guess that's what Ford discovered as well: easy will beat fancy every time.