👋 Hello
I'm a people-first business and product leader with a background in product management, user experience, and sociology. See more on people-first principles and operations here.
For 18+ years I have led and worked with empowered teams to create software products that people love to use, and that also enable sustainable product-led businesses.
I work with teams to develop their business and product strategies, and then coach and empower them to build products that are useful and valuable to the business. I further help teams create and execute cultures and software development processes that help them do the best work of their lives in environments that are safe, healthy, and fulfilling.
Primary skills:
Product and Team Leadership (Culture, Vision, Coaching)
Product Management (Product Strategy, Discovery, Execution & Delivery)
Product Design (User Research, Content Strategy, Information Architecture, Interaction Design, Prototyping)
The most updated version of my full resumé is on LinkedIn.
How I work
Below is a selection of projects I've worked on in recent years. My goal is to showcase some of the various product management and user experience design techniques and methodologies my teams and I have used depending on the specific needs of a project. This includes the following areas I specialize in:
Product management: Developing product vision and strategy, functional specifications at the right fidelity, designing systems to ensure great delivery. See my book Making It Right: Product Management For A Startup World for more (or read an excerpt). For a specific example of this work in action, see Collaborative Product Strategy Development: A Case Study.
Product discovery: Using design thinking to solve user and business problems and improve product/market fit — see my article Usable yet Useless: Why Every Business Needs Product Discovery in A List Apart
Development process design: Understanding the needs of developers and the rest of the business, and designing a development process that fits the culture of the organization and gets everyone involved in an appropriate way.
User experience research: Ethnography, heuristic evaluations, usability testing, participatory design, concept testing, surveys.
Content strategy: Content audits, style guides, content creation.
Interaction design: Flow diagrams, wireframes, interactive prototypes, concept development.
If you'd like to find out more or discuss working together, you can view my LinkedIn profile, or send me an email. Let's now get into a few specifics…
---
Head of Postmark (GM) (October 2022 – present)
GM role responsible for the day-to-day operations and outcomes for all of Postmark.
I lead Product, Design, Marketing, Customer Success, and Ops (~20 people), and we collaborate closely with the Engineering team to address customer opportunities in a way that builds a healthy business within the ActiveCampaign ecosystem.
Our team's purpose is to deliver the best email delivery service to developers and marketers, while working in ways that bring the team joy and fulfillment.
Sample work: Collaborative Product Strategy Development: A Case Study.
Head of Product, Postmark and DMARC Digests (April 2022 – September 2022)
On May 3rd, 2022 it was announced that the Wildbit products Postmark and DMARC Digests have been acquired by ActiveCampaign. The majority of the Wildbit team moved over to ActiveCampaign.
I lead the cross-functional team responsible for the successful integration of Postmark within ActiveCampaign (transactional email automations, event triggers, and more).
Wildbit (April 2016 – April 2022)
Head of Product (Jan 2021 – April 2022)
Responsible for team development, product vision, execution, and product culture across all Wildbit products. This included:
Define and drive the execution of the product strategy for all Wildbit products, ensuring a sustainable product-led business.
Develop and coach an empowered product and design team, with a strong focus on living out our principles and values in the work we do.
Part of the leadership team responsible for revenue and product growth.
Be an expert on modern forms of product planning, customer research and discovery, product discovery, and product development processes, to coach and guide the team effectively.
Responsible for pre-sales and continued product marketing with potential and existing customers.
Responsible for privacy and compliance.
Product Manager (Aug 2016 – Dec 2020)
I was hired as Wildbit's first Product Manager to define and implement the Product function within the organization. I facilitated the creation of the first Product Strategy for Postmark, as well as the processes and rituals we used as an empowered team.
I was primarily focused on:
Team happiness and efficiency
Customer input and outreach
Product strategy, planning, execution, and marketing
In short, I oversaw our product lifecycle from start to finish. I was responsible for making sure we work on the right customer and business opportunities, come up with the right solutions to address those opportunities, and ship those solutions and improvements regularly to customers.
Work examples
Here are some blog posts I've written about my work on Postmark:
Here are some blog posts I wrote for some of our bigger releases:
I also built our official Postmark Slack Bot during one of our hack weeks. You can see the details on Github.
---
Jive Software (October 2014 – April 2016)
Director of Product Design
I was a product design lead on Jive's suite of mobile apps. I specifically worked on the following areas:
I was also responsible for all user research at Jive Software, including ethnography and usability testing on our mobile and desktop software. Here's a post I wrote about how we do mobile testing: The logistics of usability testing on mobile devices.
Below is the final version of the Information Architecture document I created for the Jive Circle app. We made sure that we all agreed on the overall IA (and what's going to be in the Alpha version) before I started with Interaction Design.
I then proceeded to create a prototype in Proto.io. You can view and play around with the version of the prototype we used for visual design and initial develpoment by clicking on the link below (open it in a new window):
I'm still updating this prototype as we go so that we can continue to add and test features before they go into development. Here's a snapshot from November 2015: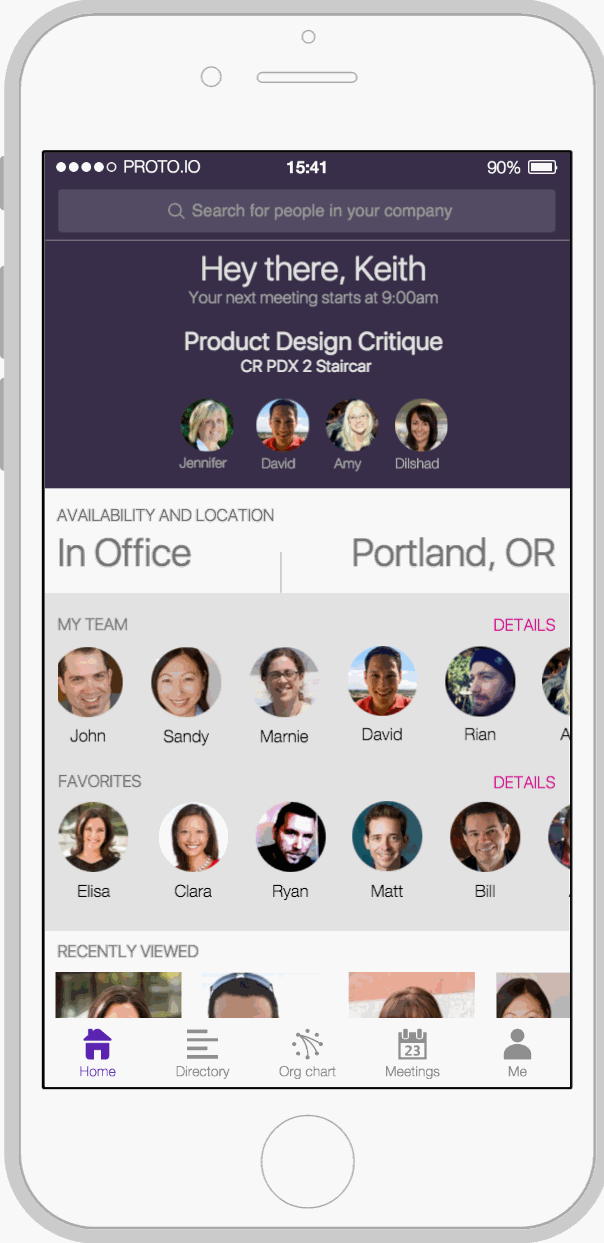 Below is a gif of another prototype I created, to redesign a core part of our Jive Daily app: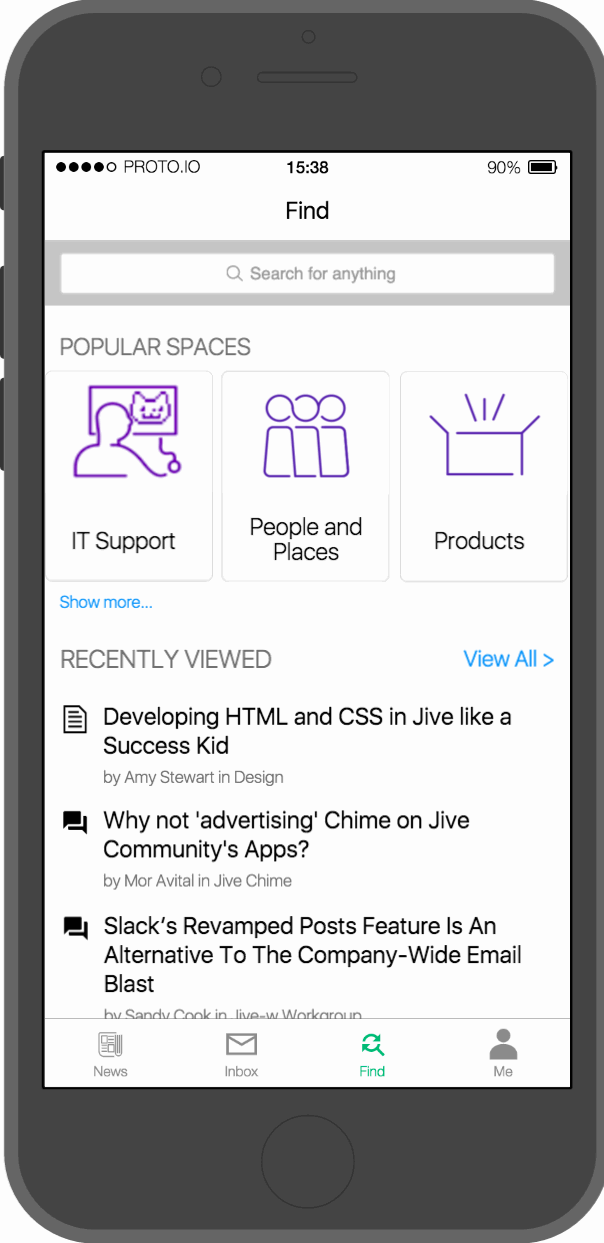 Below is an example of user journeys I worked on. In this case I helped the team to create personas for a Support solution, and we used that to define the journeys for each persona before going into the design phase.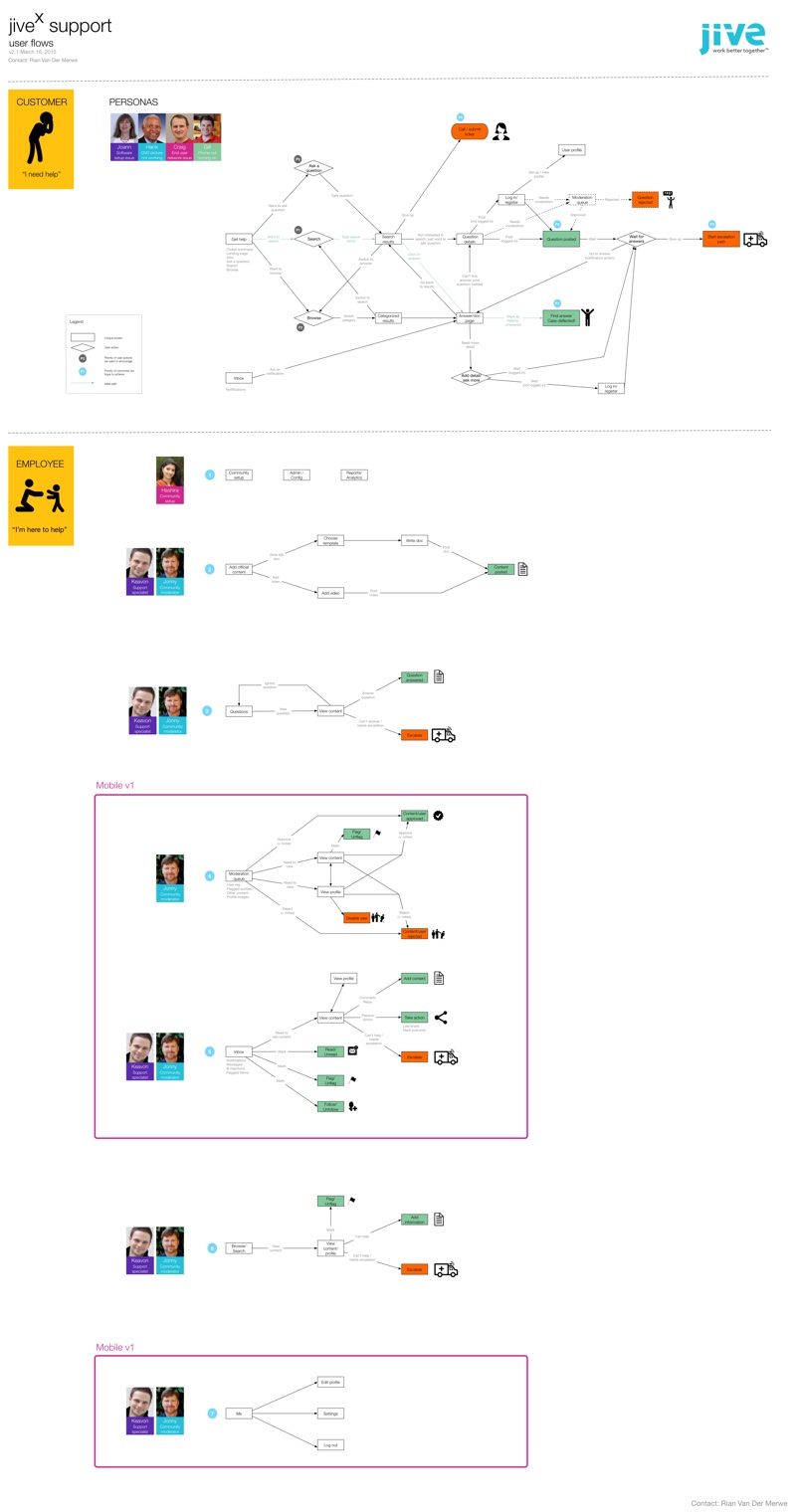 ---
HealthSparq (April 2014 – September 2014)
Director of Product
I headed up the UX team, and was responsible for creating our UX strategy. When I started we had 3 visual designers on the team. I've hired 2 UX Designers and a User Researcher to complete our team.
I worked with the team to create a design process that will work for us and the unique needs of the organization. Here's what we settled on: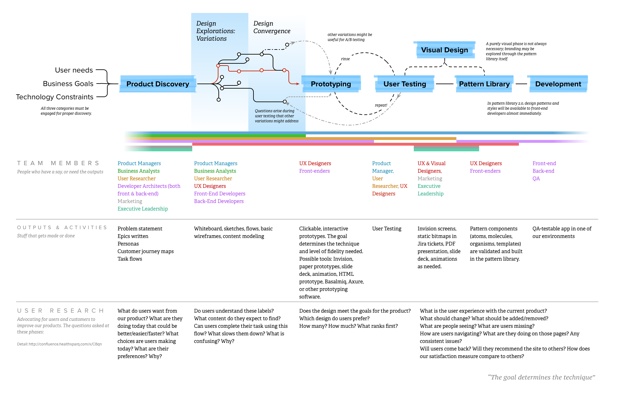 On the Product side I worked to define and deliver the first version of our Unified product to bring e-commerce style shopping to health care.
Here's a small part of our first whiteboarding session to define the healthcare customer journey: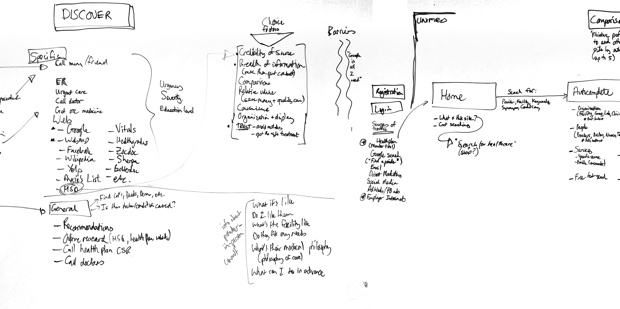 And here's a view of the story map we created to define our first release of the product:

We also created a bunch of personas to help us stay focused on user needs. Here's a small section of one of them: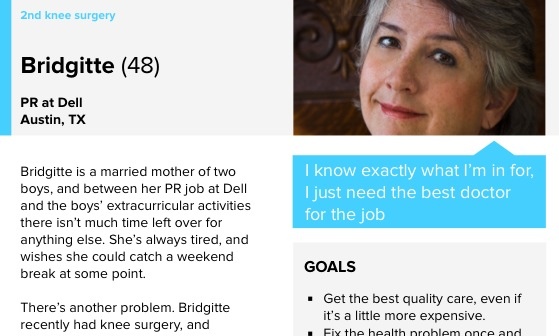 And here's a section of the home page for the first release of the product (graphic design by HealthSparq design team member):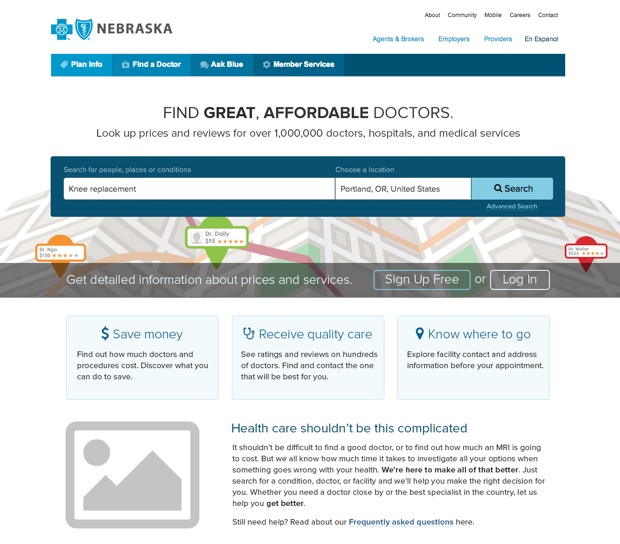 ---
Flow Interactive (May 2012 — March 2014)
Director of User Experience
I was responsible for user experience design & strategy projects, business development, and training. This included:
Finding and securing new clients for the business, and maintaining positive client relationships.
Client and project management on several UX projects simultaneously, including management of the internal team on each project.
A variety of hands-on user experience design activities, including usability testing and user research, information architecture, content strategy, and interaction design.
Development and conducting of training on User Experience Design and Product Management
Here are some selected projects I worked on:
Direct Axis — contextual interviews, personas, customer journey mapping, UX strategy
Juniva — personas, customer journey mapping, interaction design, graphic design, front-end development (see juniva.com)
Obox — usability testing (see the client's write-up of the process)
Vumi Go — personas, customer journey mapping, interaction design, usability testing, graphic design (see Case study: redesigning Vumi Go)
Virgin Active — usability testing
ificould — information architecture, interaction design (see ificould.co.za)
Primedia — user research, UX strategy, concept development
Discover Africa — Product Discovery and UX strategy
Design Indaba — Product Discovery and Product Management coaching
Takealot — personas, customer journey mapping, interaction design, graphic design (in development, not live yet)
Mr Delivery — personas, customer journey mapping, IA and content strategy, interaction design, graphic design, front-end development (in development, not live yet)
Below are some images that show our work process on selected projects
Initial interface sketch: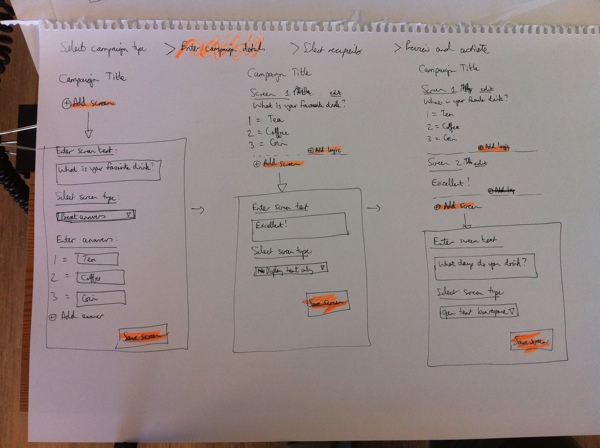 Prototype in Axure: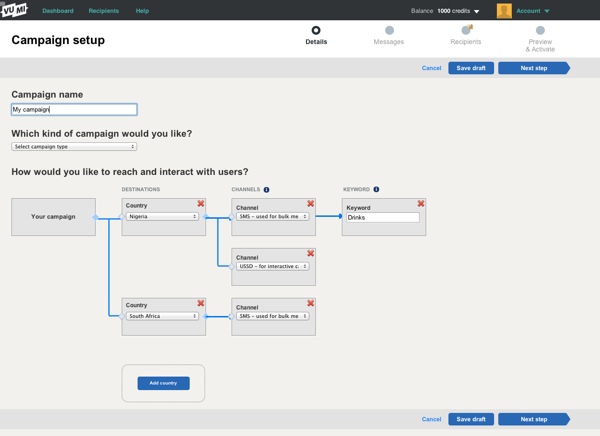 Persona workshop aftermath: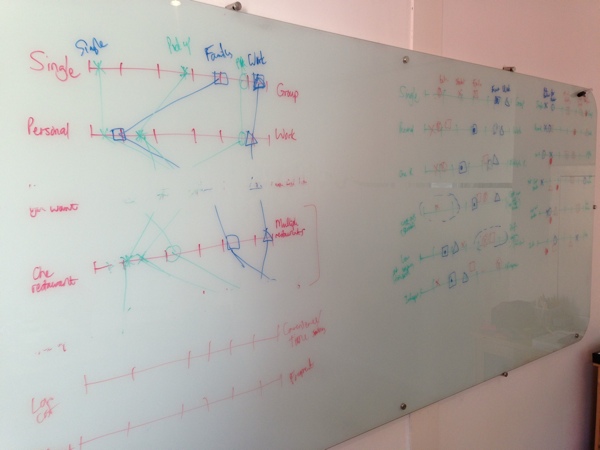 Sketch for a new checkout process: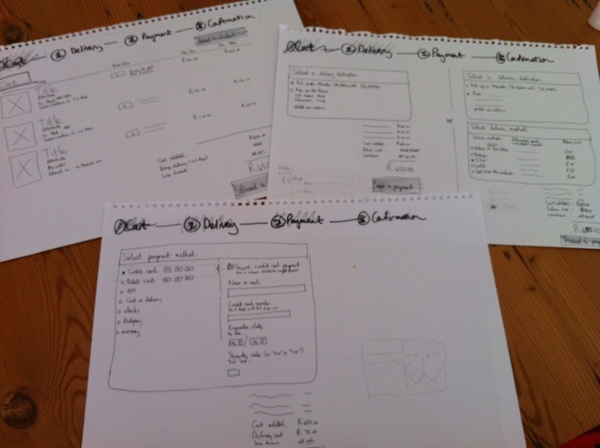 Note-taking during research: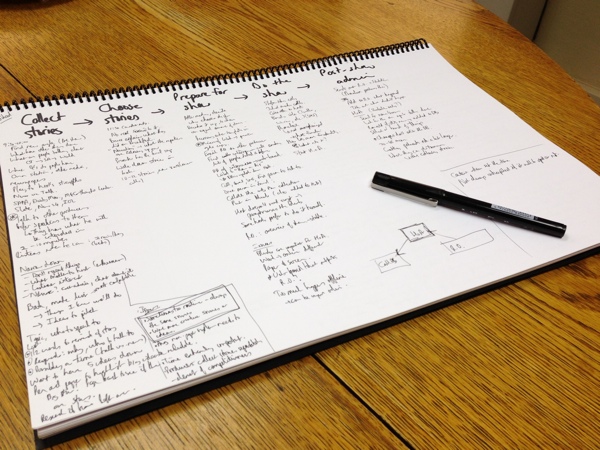 Analysis after research: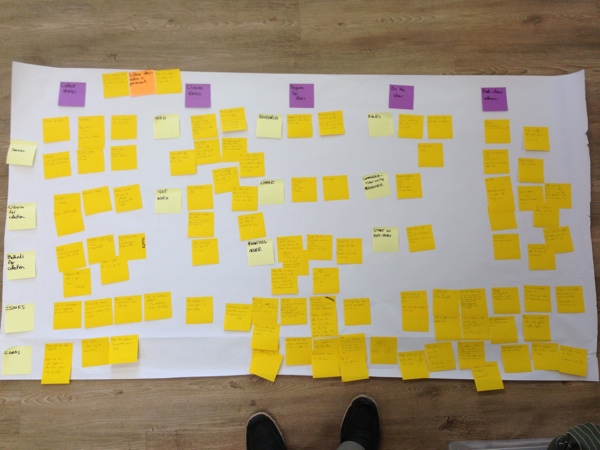 Initial customer journey sketch: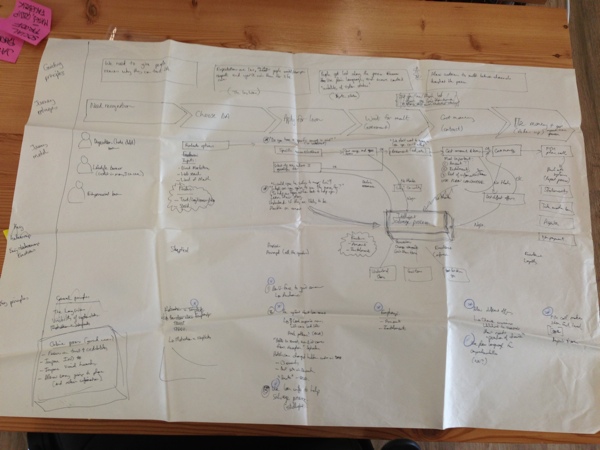 Final customer journey, on client's office wall: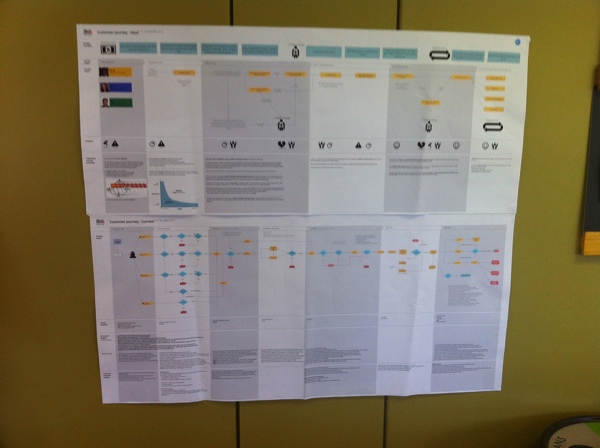 ---
kalahari.com (December 2010 – May 2012)
Head of Product Management and User Experience Design
Check out Case study: the user experience of kalahari.com, one year later, in which I go over many of our accomplishments in 2011.
Here are some selected projects I led me team through:
Established a successful product development process from idea conception and prioritization to processes for design cycles, functional specifications, and technical implementation
Introduced a systematic approach to user-centered design, including user research and UX-driven interaction & visual design
Created the Product Council, a cross-functional body of leaders who steer the prioritization and roadmap for kalahari.com
Ongoing redesign of the entire kalahari.com front-end through regular, incremental improvements to the user experience.
Facilitated user experience and product management workshops with sister companies in Cape Town and South-East Asia.
Some success metrics:

Checkout redesign: 7% increase in completion rate
Registration redesign: 18% increase in completion rate
Selected artifacts from projects
Customer journey map: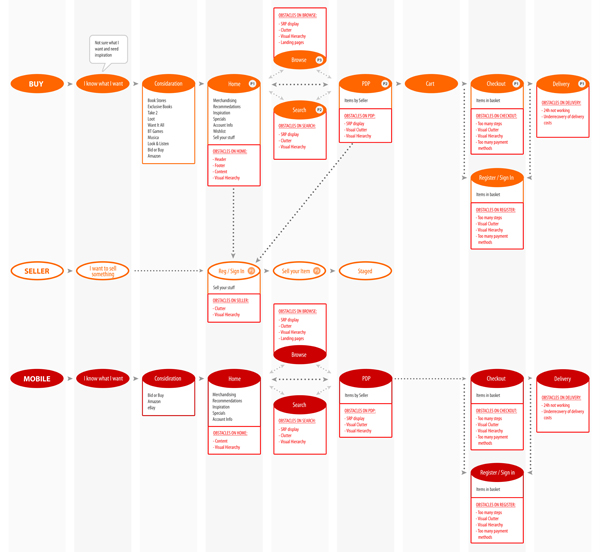 Development process: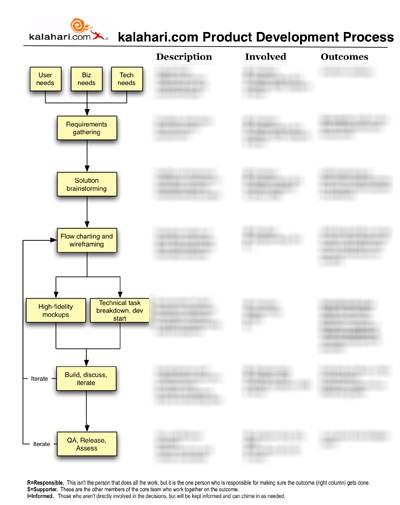 Wireframe for Checkout redesign: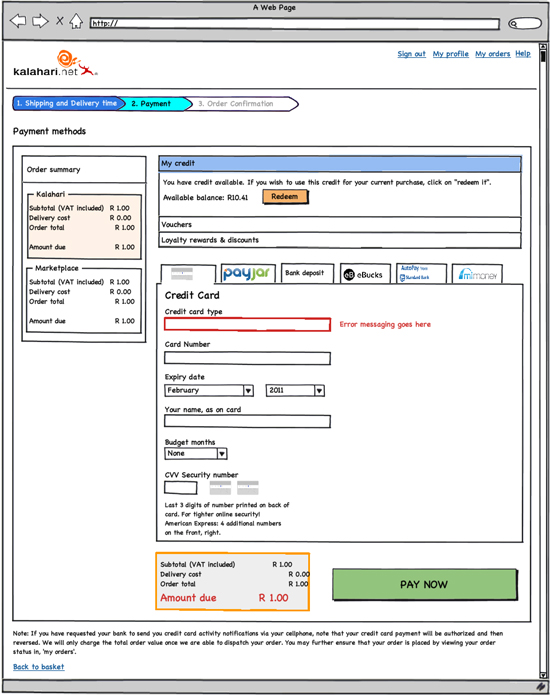 Final Checkout redesign (produced by Visual Designers)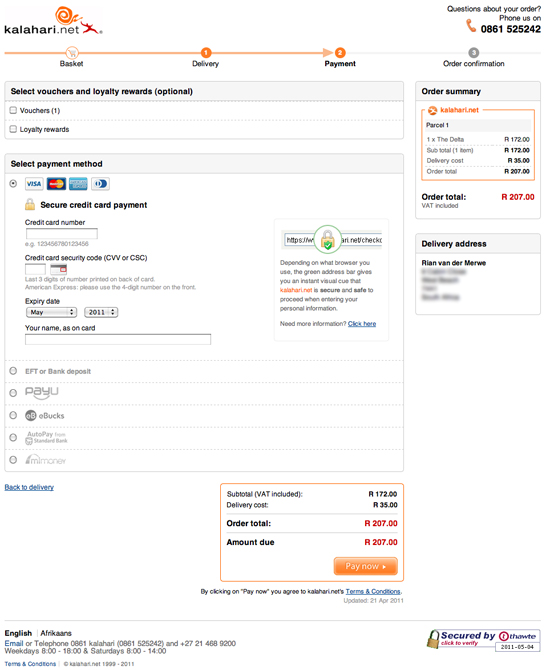 ---
Yola.com (October 2009 — November 2010)
Product Manager and user experience designer
Here are some projects I worked on:
Main website: Led the redesign of the Yola website, resulting in a 25% increase in first-time visitor sign-up conversion and a 10% decrease in bounce rate
User account area (My Yola): Led the redesign of My Yola from basic sites listing to full-fledged account and site management area
All payment/checkout flows: Led the redesign of payment screens that resulted in 28% increase in completion rate for domain purchases
Sign up and user onramp: Led redesign of sign-up flow that resulted in 44% increase in the number of websites published with Yola
Revenue-generating products (e.g, bundled packages): Led design and implementation of a revamped Pro package that resulted in a 280% increase in revenue from the package
Below are some artifacts from the different projects.
Flow diagram for redesigned bundled packages purchase flow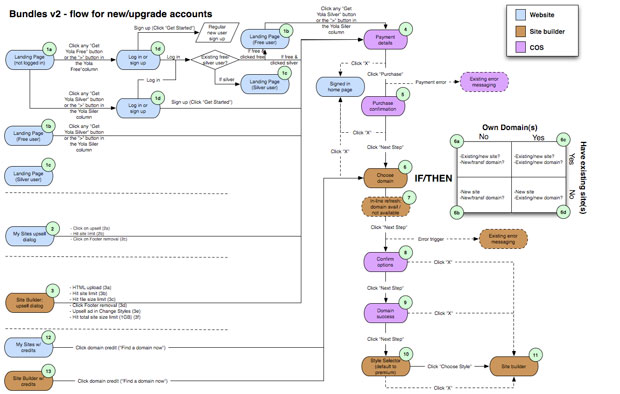 High-fidelity mockup for new home page (produced by Visual Designers)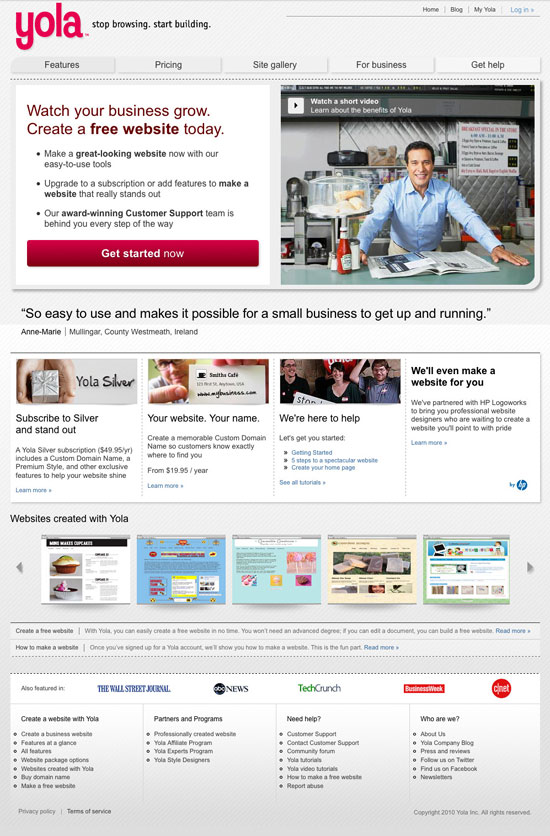 ---
eBay (April 2005 – October 2009)
User experience researcher
Here's an overview of some of the projects I worked on:
Responsible for the planning, execution and business impact of eBay's Product Health program, which is a holistic research program that drives global product strategy and resource allocation through insights from a variety of user assessments of our site experience. We utilized surveys, true-intent studies, advanced in-page analytics, site logs/web analytics, and qualitative insights.
Managed the team that executes the program, and worked with leaders across the design, business and engineering organizations to develop product strategy based on the insights, and provide success metrics to measure the impact of product changes.
Collaborated across functions to write and scope requirements for new products and changes to existing features, from product discovery through execution.
Products worked on included Home Page, Search, My eBay, Registration, Seller listing page, and eBay Daily Deals.