Flipboard 2.0 was just released for iOS, and with it came a feature called Flipboard Magazines. From the blog post announcing the new version:
For the first time, you can collect and save articles, photos, audio and video by organizing them into beautiful magazines. These can be private, or if you want to connect with like-minded enthusiasts, you can make them public and share them on Flipboard and beyond. Now everyone can be a reader and an editor.
I've been playing around with this feature a bit, and I like it so far. It's definitely an early release, so there are a few things missing. For example, you can't edit the title of an article you're adding to a Magazine, and you also can't move articles around to be in a different order. But I'm sure those features will come. For now, it's a great way to organize1 content — and the timing is particularly good with the impending demise of Google Reader.
I've created two magazines so far, which you're welcome to follow on Flipboard. UX Design is all about design and related disciplines. Technology and us desperately needs a less cheesy name, but it's a collection of articles about the various ways technology impacts our lives.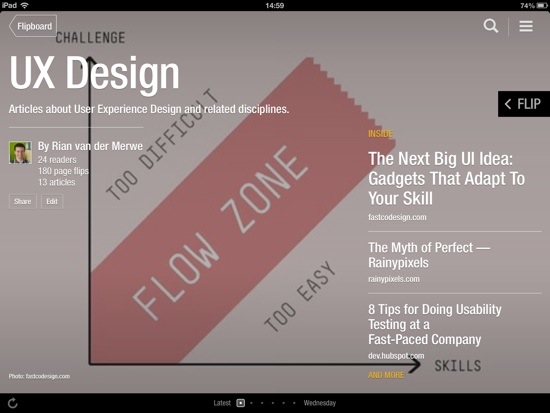 Enjoy!