This morning I read an article about something that's been on my mind for a while: Banner ads on media sites/blogs. In The Truth About Display Advertising, Mitch Joel writes:
Go to the website for your local newspaper. How many display ads, banners, buttons, text links, etc… do you see that are ads? Mine has over 15. That's not in consecutive order… that's all at once. It's hard enough to get consumers to sit through four TV ads in a row, so what did you expect to have happen when you blast them with 15 ads on one page, all at once? Foregoing the aesthetics and the basic Marketing lesson that an ad will experience diminishing returns based on how cluttered the environment that it's placed in is, does anyone really believe that this is the best way to advertise to consumers in the digital spaces?
No. I don't think this is the best way to advertise to consumers. In fact, I don't even think advertising is the best way to monetize media sites either. But are there viable alternatives? I think there are at least two business models that could work.
Distraction-Free Reading
One of my favorite services on the web is Readability. Users sign up for at a low monthly fee (minimum $5), and it then allows them to read articles in a beautiful distraction-free environment with all the ads stripped out. But here's the best part: publishers also get something out of it:
70% of all Readability membership fees go directly to writers and publishers. Every time a subscriber uses Readability on your site, a portion of that subscriber's fees are allocated to you. Whether in a web browser, iPhone, or just about any mobile or tablet device, Readability puts reading "" and your content "" at the center of the experience.
Here's a 1-minute video that summarizes the experience:
You'll also see that the Readability buttons are the only content sharing buttons I have on my blog apart from the Tweet button. There are many reasons for only choosing those two, but with Readability it's simple – I think they have a fair business model where both reader and publisher win.
How would this work as a replacement for ads? Sites could integrate the "Read Later" functionality in some innovative ways. Sites that publish a lot of content could provide an ad-free home page with content snippets and "Read now/later" buttons to get to the full article. Users without a Readability (or an equivalent) account could view ad-supported full articles if they prefer. My hope is that content would win and readers would start to prefer paying small amounts of money for ad-free reading environments.
This is by no means a well-explored alternative for ad-supported sites, but it could be the beginning of something great that rewards both readers and publishers.
Business Class Subscriptions
Oliver Reichenstein recently posted another very interesting alternative to traditional paywalls on sites like the New York Times. He refers to it as Freemium for News, and the idea is that instead of paying for additional content like with traditional paywalls, you pay to get a better experience (just like paying for Business Class still gets you to the same destination, but in a much more comfortable way). Think of it as a Readability season ticket for a specific site. Here is one example he shows: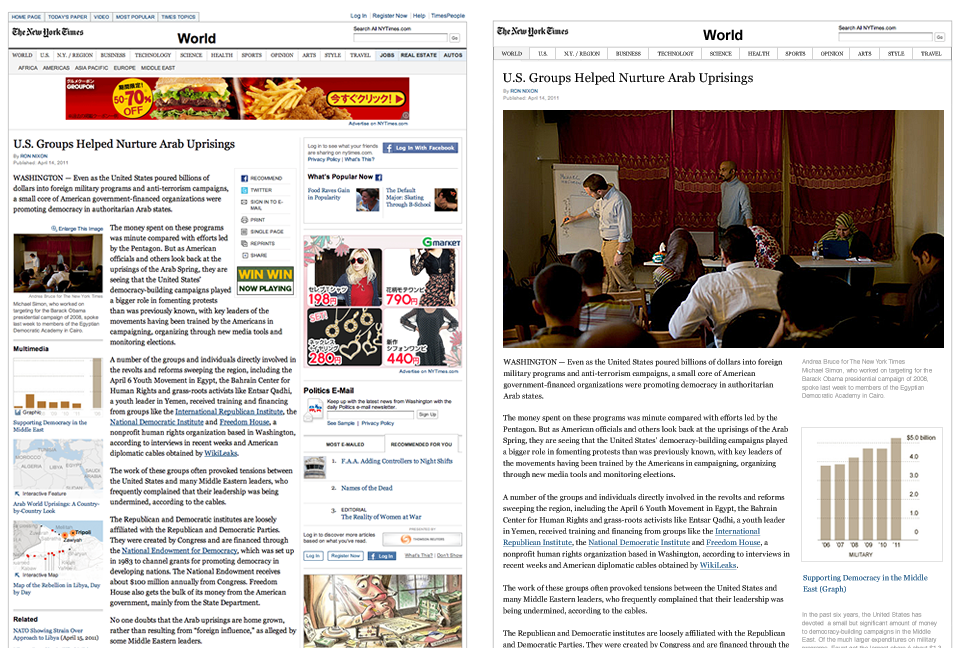 Now, think about how this might work for ad-supported sites. I would certainly pay $0.99/month to access a Business Class version of TechCrunch. Would you?
But Can Any Of This work?
Realistically, could either of these ideas provide viable alternatives to the traditional ad model for media sites and blogs? Probably not yet. But I don't think we're seeing enough discussion about alternatives, particularly those that focus on user experience as opposed to "monetizing traffic". I also don't think these ideas would ever replace ads completely (just being realistic), but at the very least it could provide an additional revenue stream that's actually based on what users want, not on what advertisers want to push down our throats.
Let me end with something I probably should have begun with. I am no expert in the area of publishing, so it's easy for me to back-seat-drive media sites out of their biggest source of revenue – after all, it's not my car. I am in the lucky position where I don't need to monetize this blog, so I don't really have to make tough decisions about these things.
But I do hope that if I ever need to make money here, there would be a viable alternative to putting ads all over the page. I just don't think an ad-supported User Experience Design blog is a good idea. So from the back seat I just ask those who make a living in the publishing industry: Can you please figure out how to do this so I don't have to?